---
click here to go to complete amplifier kits click here to go to our MK3 page click here to go to our downloadable Dynaco manuals page
Written Articles

ST70 modifications comparison test - Glass Audio magazine article
---
here's a link to a wiring diagram for our VTA amp
here's a photo of the internal wiring on a VTA70 amp, with the Triode/Pentode switches . . .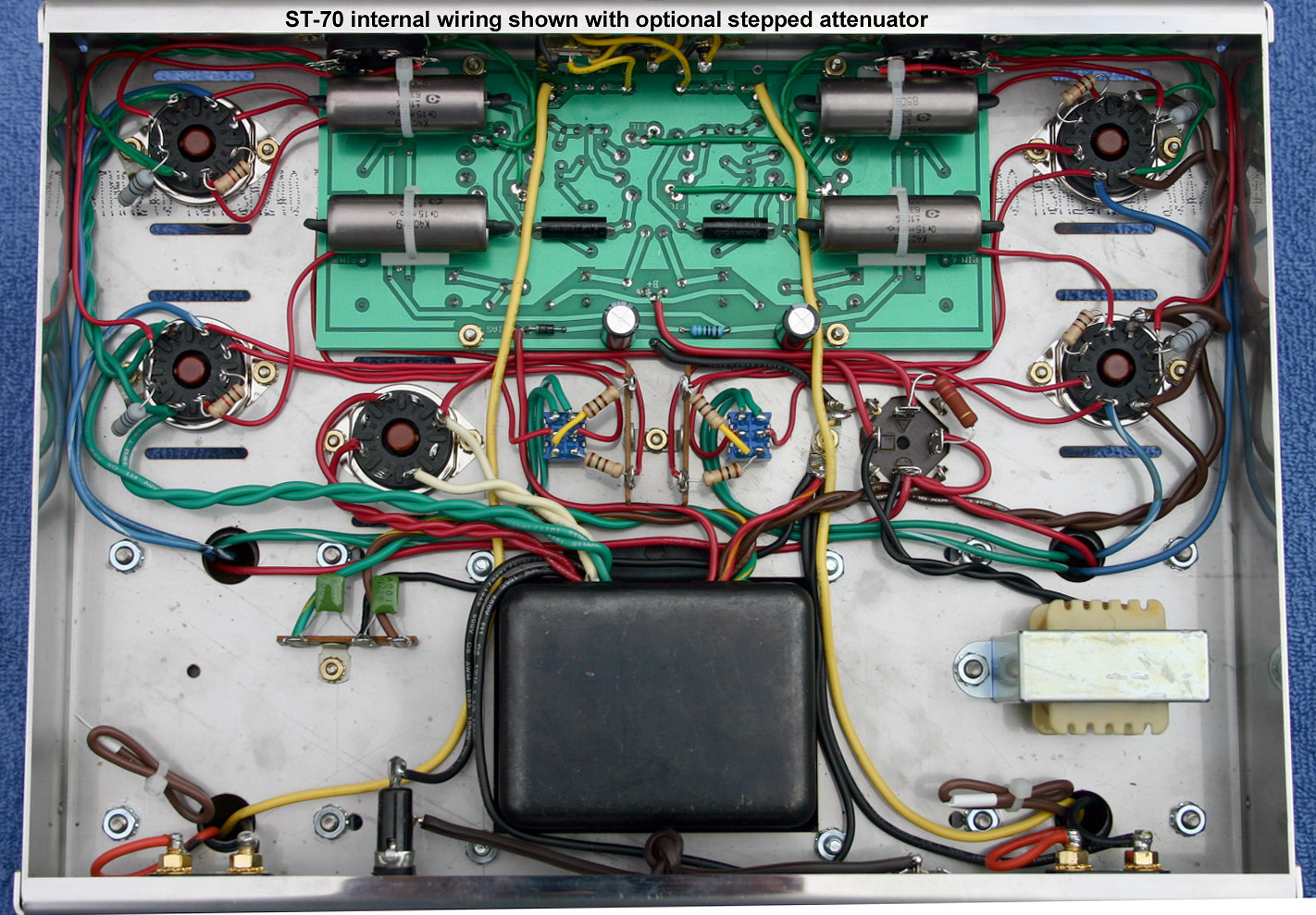 see Bob's page to order an amp like this !!
contact us for any parts you may need for your Dynaco ST70
email "tubes4hifi" for info
---
our dealer on the east coast is Bob Latino. . . he offers NEW Dynaco ST70 KITS and ready-build amps
click here for his "buy-it-now" page
 brand NEW ST70 amplifiers, in KIT or ready to go! 


you can send email to Bob Latino directly here for info on these complete kits or amps . . .
---
---
---
some additional info on our VTA70 PCB . . .
Our driver circuit is a modern all triode driver design, for totally neutral uncolored sound.  
One half of the first tube is used for each channel as a voltage amplifier.  
One each of the other tubes is used per channel as a combined phase splitter/driver 
in a long-tailed pair configuration.  13 db total loop feedback is used. 
Parts quality is top notch, with mil-spec tubes, metal film resistors, and propylene caps.
There is an individual bias pot for each output tube, as well as a signal balance pot for the 
phase splitters. 
The bias is set for 40 ma, about 20% less than stock to reduce heat and conserve tube life. 
Open loop response of this design is incredible.  It has flat frequency response from 
7 Hz to 70 KHz, with good square waves from 7 Hz to 30 KHz.  Open loop gain is 40. 
The PCB is 8.0" x 3.3".  Max power output is 40 wpc. 

This board compares very favorably with the best of the competition, and is a better quality PCB for less money.
For example, the Curcio board with comparable options (DC & AC balance, propylene caps) is about $40 more, and it is single sided.
Ours is double-sided with plated thru holes. Now available in our improved design using 12AU7 or 12BH7 tubes
---
---
customer comments
I bought and built this amp and have compared it to gear costing many times what this did and they cant beat them. 
GREAT JOB on your circuits and amplfier mods. Thank you.   Mike

You are amazing. I placed an order on saturday and the parts arrived at my home with mondays mail !
Thanks again,  Steve


Awesome amp.  I am really happy with the results.  This is my final product for my system.   
We are using the amp now and we are extremely happy with it.  
Thank you for your awesome design and I will recommend your kits for anyone else that wants this quality product.  
I may have a couple of people that want you products.   I will be keeping an eye on your web site for any future products.
Thanks for you fine products.    Mark 

I am very pleased!!  I don't think I have ever had such good sound.  
I am using your phono stage, SP14 preamp,  a pair of M125 monoblocks, and B&W 803 speakers.
Thanks for your very fine equiipment.    Allan

I just wanted you to know how much I appreciate this upgrade.  
I have 2 ST 70s. One I rebuilt to the original specifications and the other I did using your board.  
The original amp sounds muddy in comparison to the upgrade. 
Your circuit is quieter and there is much better bass definition. In addition it is a very quiet amplifier. 
I enjoyed assembling and installing it! Such a pleasing result is quite rewarding.
Thank you,   Kip 

Roy, 
Thanks so much!  It's always a true pleasure doing business with you  
You're an absolute gentleman.  Have an excellent evening.
Regards,   Mark

Roy,
It is this kind of great service that will make people come back and buy more from you! Thanks!
/ Anders

Hey Roy,  Got the mod board done.
This amp simply kicks ass sonically and i look forward to recommending your products.  
thanks for the good after sale bedside manner for dopes like me.   Mike

All-in-all, I am pleased with how your circuits perform and would not hesitate to purchase other kits from you. 
Your technical support when I had a problem has also been excellent. 
I do not know how much positive feedback you receive, but I thought I would let you know we are happy 
with your circuits. My wife said this is the best sounding system we have had so far. 
Best regards,   Ralph 


"I finished your mod and this is honest to god the first time 
I ever enjoyed listening to an ST70..The ST70s to me have always 
sounded kind of sloppy, but this mod tightened it up and the overall 
tonal balance is much much much better.  The biggest thing I noticed 
was the lininerity of the sound and the focus of the instruments 
possess an exponential difference now as opposed to the stock ST70.
The amp is tighter and much faster."
    Bill     (VTA70 mod)

"I have only run my ST-70 a few hours (w/ all tubes new), and let me 
tell you how happy I am from the sweet sound I'm hearing.  
Compared to stock, well no comparison.  
Better highs, deeper and wider soundstage and tauter bass, more 
transparent and better detail by a factor of 10.  I heard an ST-70 
with a Curcio upgrade last night driving the same speaker I have 
and using a higly regarded preamp, and in my ears, 
there is no contest.  Thanks very much.  A very happy customer."
  John R.  M.D.  (VTA70 mod)

"hi roy
I put together the board of yours and then I wired it to my Dynaco ST70.
Let me tell you this is the most stable, accurate, fast, solid sounding 
mod I've ever heard on a Dynaco... WOW.  
I couldn't believe the drive they have.  Oh by the way a friend of mine 
had the Curcio modded amps and he heard these tonite and he said this is 
a much better sounding design than the Curico." 
     mike    (ST70 mod)

BEAUTIFUL WELL LAID OUT BOARDS AND EASY TO FOLLOW INSTRUCTIONS.EXCELLENT.A+++

Superior packing, very honest seller, A+'s all the way, very smooth transaction

Quality workmanship,quick shipping.Recommended!Thanks!

Nice amplifer, works great. It sounds better than my MC240! no problems!

Awesome product as promised!!!!! Nice and quick delivery!!!!!!

September 2005 comments
. . . posted on AudioGon by recent customers . . . .
 VTA mod board  
Hi,

I know all of you out there who are do it yourselfers(DIYer's) have done a mod or two 
on the most recongnized modded amps around, the Dynaco ST-70 and the Dynaco Mark III's. 
Well, I have bought just about every mod board available and have even done a few on 
others not sold mainstream from time to time. 
  My favorite, until now, was the Kevin Kennedy(KTA HiFi) board until I tried on a whim, 
a VTA board from Tubes4HiFi. Immediately, with no warm up, this board was showing 
much promise and once it warmed up it was all there, period. After looking at 
the schematic and seeing what was done I was saying to myself and a very close friend 
who is an accomplished tech, was saying the same thing. 
  "This board shouldn't be doing to the amp what it is doing." It took a marginal amp 
and made it great. I then had the urge to try this schematic on a pair of Heathkit W7's. 
If the Dynaco ST-70 is great, then the Heathkits are world class. These amps smoked 
the Dynaco from the beginning of the bandwith to the last and final note. 
   There is a difference between the two amps besides the transformers. 
The Heathkits have solid state rectification where the Dynaco is tube rectified.  
I, at some point, just to be fair to Dynaco and its followers, am going to change 
the rectifier to solid state, just to compare apples to apples. I doubt it will make 
that much difference but one never knows. I am not a solid state lover in the rectifier 
but you just can't tell the Heathkits are solid state rectified with this board. 
   This is a great mod board. Just try it!

by Theschwrtz on 09-22-05   
 



Now for the sound. Let's just say I used the board on a few Dynaco's and I was happy with the results as compared to other mod boards and stock boards I tried. 
But when I put the boards in it took on a new life form. Dynamics in spades. Musical? None better! This is the best mod to an EL-34 amp I ever heard. 
The music is about as real as it gets with lifelike images that make you feel the musicians and singers are in the room for a personal perfomance just for the listener. 
The bass is extremely accurate and tight. I felt it was a bit bloated on the original Dynaco. Try this board! You will be glad you did and it is easy to install. stereovinyl 09-23-05




---




RE: VTA70 PCB kit It is a real winner - finished the amp in one day and everything worked perfectly and all was very quiet. 
All four 6ca7s balance at the same point on the pots (.40v after 12hrs of burn in) and remain stable. 
I put in some classic Eric Clapton, Eagles, Joe Cocker and David Allen Coe in the CD changer and WOW!! 
This thing is pure and really belts out a tight bass, with expanded mids and brilliant highs. It's been on continuously now for 3days playing a variety of old vinyl, 
along with DATs of CDs and live performances. I really think it outshines my MAC 225, and certainly beats any ST70 I have ever heard.




---




Roy, just a follow up to my recent order of a VTA board with the upgraded audio caps. I installed it last Sunday, which took no more than an hour. 
Fired it up, biased it per directions and everything immediately checked out O.K. (after warm up, the B+ voltage is settling at 439, 1 volt below the norm you set in your directions). 
It's driving a new set of Svetlana "winged C" EL34s, employing vintage Mullards. To be succinct, the sound is incredible - much more robust, with depth and detail far, 
far beyond what I previously was hearing from the amp (that isn't just me, even my thirteen year old Ipod-centric daughter commented on how "three dimensional" my system now sounds). 
It is even bringing out a decent soundstage from a satellite radio signal!!! Given that, listening to analog sources (vinyl and a vintage Kenwood tuner) is pure heaven. 
Thanks again for a great product.




---




Roy - WOW - yours is some pc board !! > It makes vanalstines ultimate 70 board > sound terrible by comparison. Much thanks!! > John F.




---




http://www.audioasylum.com/audio/tubes/messages/19/198694.html I have used over 20 of Roy Mottram's VTA driver boards in Dynaco ST-70 builds for customers. 
They are extremely well built, have no open solder traces and in comparison to the Triode and Curcio boards - IMHO the VTA simply sounds better. 
The VTA board has individual bias controls (DC balance) for each output tube so a matched quad of output tubes is not really necessary.




---




http://forums.klipsch.com/forums/thread/833089.aspx I have the VTA MOD Dynaco ST70, and a freind of mine has the VTA MK3 mod, as far as I am concerned it is the best Dynaco upgrade ever, 
and it doesnt take a rocket scientist to install. check it out at www.tubesforhifi.com Dynaco tube amps and Klipsch are made to be together. 
Just installed the board in my ST70 and I have to say it sounds superb! I had a previous upgraded board that's well regarded but sounds dull in comparison to your board. N. Haider, MD




---




Hi Roy, A note to let you know that I received the PCB and the parts I ordered. The PCB is absolutely outstanding as compared to the Curcio! 
It's clear that your intent was to give your customers a high quality PCB at a very reasonable cost.




---




I have only run my ST-70 a few hours (w/ all tubes new), and let me tell you how happy I am from the sweet sound I'm hearing. 
Compared to stock, well no comparison. Better highs, deeper and wider soundstage and tauter bass, more transparent and better detail by a factor of 10. 
I heard an ST-70 with a Curcio upgrade last night driving the same speaker I have and using a higly regarded preamp, and in my ears, there is no contest. 
Thanks very much. A very happy customer. John R. M.D.




---





---




Hi Roy, Received your VTA ST70 mod, and I am thrilled. I must say, the quality and craftsmanship that have gone into this board are truly exceptional. 
You may be interested to know that before I ordered this board from you I did my homework, and investigated most of the mod boards being offered by other companies. 
Time and again, yours was rated by far the best, and now I can see why. I have loved the sound of tube amps since the 1950's, 
and have always strived to have the best sounding equipment(and generally LOUDEST) in my entire town. 
I didn't realize that part of your mod board INCLUDES additional power supply filter caps, When I finished the project, and powered it up according to instructions, 
and everything seemed just fine, but at first I thought there was something wrong because I couldn't hear any hum at all through the speakers. 
Then the music started. WOW! This is an amazing board you've designed. It has tons of power, plus great range. Amazing !! Thanks for going the extra mile for me -Peter S




---




This amp is absolutely LIQUIED. The sound stage is large and has wonderful detail! I would recomend this MOD for any ST70 Steve (VTA70 mod) Your board sounds really nice! 
I will recommend it to my friends with Dynaco Stereo 70's. To be honest the Dynaco just didn't cut the mustard in stock form but now it�s a whole new animal. Joe 

When I finished the project, and powered it up according to instructions, and everything seemed just fine, 
but at first I thought there was something wrong because I couldn't hear any hum at all through the speakers. Then the music started. WOW! 
This is an amazing board you've designed. It has tons of power, plus great range. Peter




---




Roy Just a note to let you know how much I enjoy the driver board I purchased from you. It made a night and day difference in the way the Dynaco sounded. 
I had heard people rave about the stock Dynaco ST70 so I bought one only to be disappointed by its sonic signature. I was assuming that it would have some bass and authority 
but it actually sounded very bad instead. Your circuit changes and your board brought it new life and authority that it should have had if it had been designed correctly in the first place. 
It ranks up with my "quicksilver" amps now and frankly if I had had the modified Dynaco first I never would have bought them. They sit gathering dust now while I use the Dynaco with your VTA70 modification.
 Best Regards, Joe T




---




Roy, Your ST-70 mod board is by far the best sounding one I've ever heard. I'm truly impressed by the improvement in sound and the other benefits of the board, like seperate biasing for the EL34's. 
I didn't expect anything good when I bought it, but had to try it as I've tried everything for the ST-70. 
I'll spread the word. And Thanks! Audiodyssey Anthony Cordero




---




Good afternoon, The amp is getting better and better, I put about 12 hours on over the weekend. I'm ruined. This was a second system. 
My main system is a pr of Magnepan MGIIIa's with Oddesey Mono amp's (high Current). My other system is a SET FI X 2a3 with fostex BLH. 
After listening to the Lascalla's and your upgraded amp board I cannot listen to the other systems.. It's like going to AM radio. 
I mean the bass the punch the dynamics the imaging the clarity. It's outstanding.




---




join the growing list of people that have been amazed and blown away by the incredible transformation this seemingly simple modification makes. 
It is a TOTAL TRANSFORMATION of the amplifer and the sound quality is unbelievably unbeatable!! 




---




 



tubes 4 hifi
"the path of least resistance is through a vacuum"